Annual rate of inflation up to 9.2% in October
The annual rate of inflation rose to 9.2% in October, new figures from the Central Statistics Office show today.
This compares to an annual rate of 8.2% in September and marks the highest rate of inflation since June 1984 when inflation was 9.7%.
The CSO noted that consumer prices have been rising on an annual basis since April 2021, with annual inflation of 5% or more recorded in each month since October of last year.
Inflation had eased over the previous two months after steadying at the recent high of 9.1% in July, but it was expected to rise again after energy companies said that price increases of up to 47% would be implemented in early October.
The CSO noted that the month-on-month increase of 1.6% was the second highest monthly jump in consumer prices this year.
The Department of Finance has said it expects inflation to peak at 10.4% in the final quarter, before easing gradually to average 7.1% next year.
Today's figures show that electricity prices are up 71.2% on an annual basis while gas prices soared 93.3%.
Home heating oil is also 65.4% more expensive compared to this time last year while solid fuels prices are up 47% in the year.
---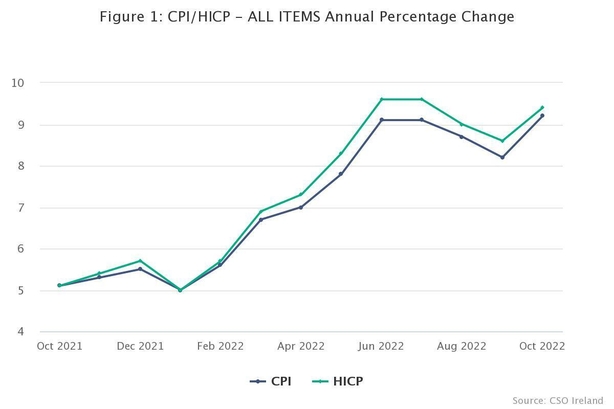 ---
The cost of some food products were also more expensive in October of this year with milk up 25.4%, butter prices rising by 19.3%, the prices of eggs increasing by 17.7% and bread up 16% compared with October 2021.
Rents and mortgage interest repayments also went up last month.
But prices were lower for certain types of insurance and petrol at the pumps fell slightly, today's CSO figures show.
---
---
Heineken to increase prices in pubs
Beer and cider drinkers of Heineken Ireland's range of products could be hit with a 17 cent increase per pint from December 1.
News of the increase came in a letter sent from the company to its publican customers two days ago.
The letter says the increases will be applied to all its draught products, which also include Murphys and Beamish stouts, Orchard Thieves Cider and bottled beers.
In the letter, Heineken Ireland said that due to significant increases in the cost of energy, packaging, and raw materials, the drinks company has been left with no choice but to amend its pricing in the pubs here.
"As a result, we have written to our on-trade customers to advise them of a 9% increase in wholesale draught prices to more closely reflect the current cost of producing and supplying our products," a spokesman for the brewer said.
Heineken said it would not be passing on the full impact of cost rises for its Irish business.
"Heineken sets the wholesale price that is charged for its products but has no role in relation to the price paid by the consumer, as this is set by individual operators within the on-trade sector," the spokesman added.
But the chief executive of the Restaurant Association of Ireland, Adrian Cummins, said the price increase from Heineken will be passed on to customers.
Mr Cummins said the association was surprised by the level of price increase announced, and said it will add to the cost of living crisis for consumers and for businesses.
Meanwhile, the Vintners Federation of Ireland (VFI) has said its members are extremely concerned about this price rise.
"There is never a good time for such a price increase, but in the current climate where everyone is feeling the impact of soaring costs this is particularly poor timing," said VFI CEO Paul Clancy.
Due to the cost of doing business, Mr Clancy said most publicans will have to pass on the price increase to their customers.
"Pub customers are also going through their own cost of living crisis and we know our members are desperately unhappy about having to pass on this increase," he said.
It has also emerged that if publicans pass on the entire 17c increase in the wholesale price being charged to them, pint drinkers will have to pay even more as 23% VAT must also be added.
To find out more about what AG Associates can do for your business, give us a call we would love to hear from you.