76% of businesses still trading despite Covid-19 – CSO
New figures from the Central Statistics Office show that 23.3% businesses had ceased trading temporarily since the outbreak of Covid-19, while 0.6% had ceased trading permanently and 76% continued to trade.
The CSO today published the first results of its Business Impact of Covid-19 Survey, the first of a temporary fortnightly survey which reports on the key features of how the coronavris crisis has affected business in Ireland.
The online survey was sent to a sample of 3,000 businesses and the information was collected between Monday 20 and Friday 24 April. The response rate to the survey was 26.4%.
The CSO said that 70.8% of construction enterprises that took part in the survey had ceased trading either temporarily or permanently, while 88.1% of accommodation and food services had ceased trading.
Of the Government supports available to businesses, 47.1% said they had utilised the Revenue Temporary Wage Subsidy Scheme, while 51.6% said they had not availed of any supports.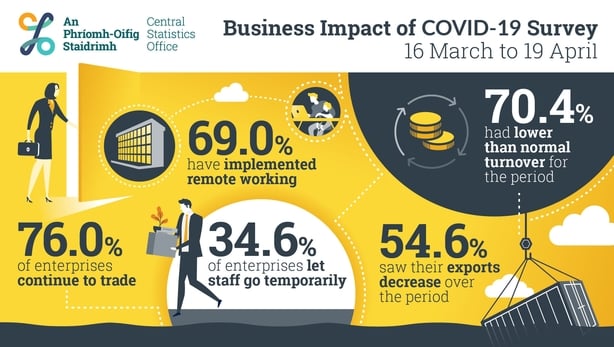 Over 54% of responding enterprises also said their turnover over the five-week period from March 16 to April 19 was significantly lower than normal due to Covid-19.
16.2% of responding enterprises said their turnover was slightly lower than normal.
A total of 70.4% of companies responded that their turnover was lower than normal, the CSO added.
To find out more about what AG Associates can do for your business, give us a call we would love to hear from you.